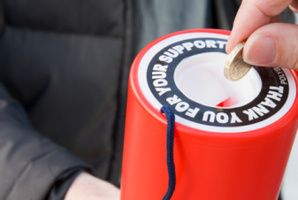 It's not just beggars who are coming in for attention - the Auckland Council is also considering changes to the rules around charity collectors, who approach people on city streets asking for donations.
Charity collecting activities are controlled by a council permit and by the voluntary code of conduct of street appeal fundraising organisations.
A council spokesman said review of the bylaws would begin later this year with the aim of introducing a single region-wide bylaw on Street and Public Places trading.
The spokesman said council "occasionally" received a complaint in relation to collectors, but it wasn't often. "We respond to these complaints and address the issue with the relevant charity."
The Public Fundraising Regulatory Association (PFRA), which charity collectors belong to, investigates incidents and had penalties for members who breached their code of conduct. "This has proved an effective way of dealing with the issue."
PFRA general manager Karen Ward said they were working closely with council. "So far we've been happy with the consultation we've had with them."
She was hopeful those arrangements would continue. "We want to ensure the public are happy with the way things are. We're very aware any fundraising is a very visible activity so if they get any feedback it would be great we have access to that."
Mrs Ward said all the 24 charities PFRA worked with had strong professional standards in place. "We're keen to ensure any changes enhance our professional standards."
She said they didn't receive many public complaints but when they were received they were taken seriously. She invited anyone to send feedback to www.pfra.org.nz
Rules for the street
Beggars: regulated by the police, but soon to come under a council bylaw prohibiting obstruction in public places.
Buskers: must obtain council licence, free of charge, governing noise levels, performance times and variety of repertoire.
Charity collectors: must belong to an industry association which rosters their numbers to ensure there are not too many on the streets at any one time.