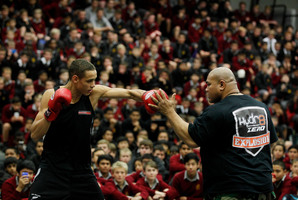 Boxer David Tua had to answer honestly when a young student at Hamilton Boys' High asked him whether he'd ever been hit in the privates.
"Yes ... and it's not pleasant," he said, as the room roared with laughter.
The Tuaman visited the school as part of a promotional tour for his fight against Alexander Ustinov on August 31, at the Claudelands Events Centre in Hamilton.
He was welcomed by hundreds of students who lined the school entrance. They later performed a haka for the heavyweight.
When it came to question time, the Tuaman didn't shy away from the personal - and very personal - questions put to him.
Tua spoke about his love for boxing and one of his biggest motivations - his family - and also gave a message about how important education was.
He spent about two hours at the school talking with students and staff and also offered a few tips to a number of boxers at the school; including 17-year-old David Nyika, who was treated to a sparring lesson.
Tua's upcoming bout is being dubbed the "comeback fight" against the 36-year-old Russian fighter Ustinov, who is ranked 10th in the World Boxing Association.