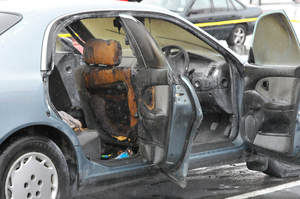 Family of the Namana-Rowe children who were badly burned in a Gisborne car fire hope to have them home from Waikato Hospital this week.
A family member in Gisborne said they had been told the children might be released from hospital some time this week.
Three-year-old Manaia and two-year-old Rious have been in hospital since the April 4 fire outside SuperCheap Autos in Gladstone Road.
The children spent time in the burns unit at Middlemore Hospital before being transferred back to Waikato Hospital last month.
The family member said the children could be discharged from hospital either tomorrow or Friday.
"We will go up there to help them bring the children and all their stuff back to Gisborne," she said.
"We are all so pleased they are coming home soon."
A Waikato Hospital spokeswoman was unable to confirm their release date.
"All I can say is the two children are still in a stable condition in one of our wards," she said.
Police announced on Monday that after receiving legal advice, a decision had been made not to charge anyone over the incident.
The youngsters were left in the car by their mother when she went into the auto store when the fire ignited.
Detective Sergeant Theo Akroyd said she was not away from the vehicle very long.
"We considered the circumstances closely before making our recommendation not to lay charges.
"It was considered reasonable that the children were left in the car unattended for a short time."
The fire was accidentally started by one of the children playing with a barbecue-style lighter.
Several men involved in the rescue and resuscitation of the two children during and after the fire received "men of the year" awards last week for their actions.