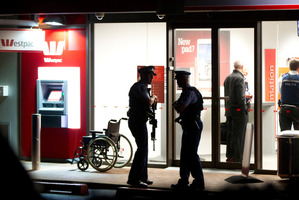 A man who allegedly sparked a five-hour siege at an Auckland bank is to have a further assessment of his mental health before his next court appearance.
The 41-year-old had an interim name suppression order extended when he appeared in Auckland District Court this morning after his lawyer, Nicola Manning, asked for an independent assessment of a doctor's report on his mental health.
He is facing charges of unlawful possession of an air pistol, presenting the pistol at a person and unlawfully detaining a person following the incident at Westpac bank, Penrose, on June 17.
The man was remanded in custody by Judge David Harvey until July 16.
The incident started when a man allegedly entered the bank about 4.30pm and threatened to harm himself.
Dozens of people, including 10 children at the Lollipops Educare centre, were told by police to stay inside their buildings.
- APNZ