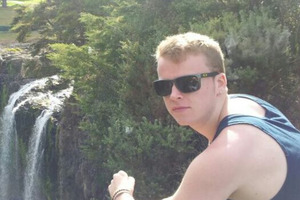 He is wearing a neck brace and has a cast on his arm but Tom Stilwell is out of hospital only two weeks after surviving a 13-storey fall.
The 20-year-old Englishman was released from hospital on Monday afternoon and is relaxing with friends in the apartment he was trying to get into on June 16.
After a night out drinking, Mr Stilwell realised he was locked out of his Auckland city unit and, at 2am, woke neighbour Geraldine Bautista, who lived on the 15th floor of the Volt building, directly above him.
He wanted to lower himself from her balcony on to his.
Seconds into the attempt, he fell to the roof of an adjacent building.
According to his flatmate Dave Thomas, when he awoke in hospital and a nurse told what had happened, he wrote on the board he was using to communicate: "What an idiot".
Yesterday, Mr Stilwell said he had signed a deal with an English tabloid that prevents him speaking about the ordeal, but was relaxed and friendly when the Herald visited.
He is on a working holiday in New Zealand and is employed by Auckland Transport.
Ms Bautista, 28, has been anxious to speak to her neighbour and check on his progress.
She didn't know he had been released from hospital and yesterday said she would wait for him to get in touch with her when he was ready.
Since the accident she has been feeling guilty for not doing more to stop him from trying to get into the apartment, but didn't really believe he would try.
"I'm not sure if I'll scold him or just joke about it ... It could have been so much worse."