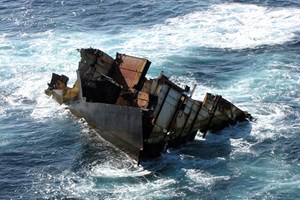 An $11 million fund has been launched to compensate those who lost money during the Rena disaster.
The owners and insurers of the wrecked containership this morning said they plan to advertise the fund over the next week, after the High Court cleared the way to establish a limitation fund.
Many Bay of Plenty businesses suffered in the wake of the oil spill that followed in the weeks after the ship's grounding on October 5, 2011, particularly commercial fishing and tourism operations.
Those making a claim would have until the end of October to apply to the High Court, which would process and direct any payments.
Captain John Owen, of insurers The Swedish Club, said the $27.6 million settlement that had been reached with the Government had been kept outside the limitation fund process, so the $11 million fund - the maximum under New Zealand law - could provide compensation.
"We started this process in October last year, as part of our ongoing commitment to do the right thing by the New Zealand public," he said.
"This approach is designed to best help those who have suffered financial loss as a result of the grounding."
The fund's cap had been challenged in the courts by a Tauranga operator representing other businesses that had lost out, amid claims the economic damage had been far greater.
But the courts ruled in favour of the owners and insurers, and on June 4 issued an Order under Part 7 of the Maritime Transport Act establishing a limitation fund to compensate for losses.