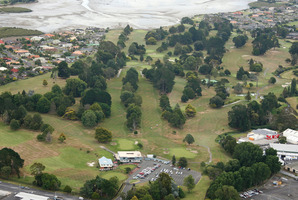 Two top New Zealand golf courses are being teed up for sale, with the potential buyers wanting to turn the fairways into hallways.
Manukau Golf Club, near the Southern Motorway at Manurewa, is shifting 8km to a new site near Ardmore Airport, after more than 80 per cent of its members voted to leave their 47ha site.
Fletcher Residential Limited - wholly owned by Fletcher Building Limited with offshore interests owning more than half (51.9 per cent) of the company - wants to subdivide the land and build hundreds of houses on it.
The Overseas Investment Office (OIO) has now given the go-ahead for the sale, believed to be around $40 million, saying it would be a "benefit to New Zealand".
In another move, the sale of Boulcott's Farm Heritage Golf Club in Lower Hutt has had consent granted by the OIO.
The 3.2-hectare site, home of the Hutt Golf Club since 1908, will be sold to retirement village developer and operator Summerset Group Holdings Limited, which is 37.4 per cent owned by Australian interests.
The firm wants to turn it into a $100 million retirement village, which was supported by the OIO given the jobs it will create and the added market competition it will bring.
"Summerset has been working closely with the golf club for some time to be able to achieve this. We look forward to working with the Council and the community to bring this proposed village to fruition," Summerset chief executive Norah Barlow said in April, after the firm completed its due diligence in relation to the sale.
- APNZ