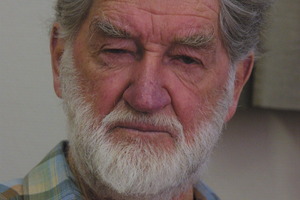 Hundreds gathered to pay their respects to famed Hastings mountaineer George Lowe at a memorial service to remember a kind man and brilliant raconteur whose "cheeky" smile will never be forgotten.
St Mathew's Church in Hastings was filled to capacity yesterday with friends, family, former students, pupils from Hastings schools and two sherpa couples, who represented a community to which Mr Lowe gave so much in his lifetime. After a long illness, the 89-year-old passed away at a nursing home in Derbyshire on March 20, but his feats of crossing the Antarctic and being among those to make the first successful ascent of Mount Everest are etched in history.
He was the first person to meet Sir Edmund Hillary and Tenzing Norgay after their climb to the summit, where Sir Ed greeted him with the famous line: "Well, George, we knocked the bastard off." Mr Lowe's widow Mary, brother Reuben, granddaughter Lauren Chadlowe and godson (Sir Ed's son) Peter all spoke.
A captivated crowd heard of Mr Lowe's early years attending Hastings West School (now Raureka), before moving to Hastings High School, where he spent much of his time in a local darkroom, and at a bootmaker's shop to avoid the classroom. He played rugby, regularly contributed to the school publication, and became a prefect in later years.
As a father he was kind and caring, always smiling and searching for an adventure. As a grandfather he was a "hero," not because of his fame, but for what he had achieved and the kind of man he was - inspiring, selfless and loving. Mr Lowe's undeniable skill for spinning a yarn rubbed off on godson Peter Hillary, who spoke of his ability to "expand the realms of possibility".
"Most of us will never climb Mount Everest or land on the moon, but we know we can... the truth is we are all liberated by the successes of others because they show it can be done."
Mary Lowe rounded out the reflections, talking about her husband's retirement years, split between home, holidaying and working to continue Sir Edmund's work in the Himalayas. "I do not grieve that George is gone, I rejoice that he was ever here," she finished.
For more articles from this region, go to Hawkes Bay Today