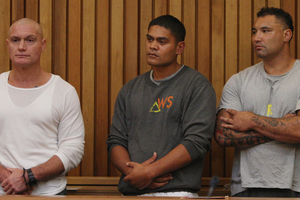 The jury in trial for two men charged over the death of Tauranga businessman Gary Kimura has retired to deliberate their verdicts.
Witeri Ahomiro Neketai, 35, of Te Puke, was charged with murder and Taonui Hiku, 27, of Tauranga, was charged with manslaughter in relation to Mr Kimura's death in his Bellevue home on October 5, 2011. The two men have been on trial in the Hamilton High Court since June 24.
The jury retired at 11.45am today to deliberate their verdicts.
Joseph Rewiri, 45, of Auckland who was in prison at the time of the attack, was also facing a murder charge, after evidence showed he enlisted Neketai to collect a debt owed by Mr Kimura. Rewiri pleaded guilty to manslaughter last week after Justice Tim Brewer reduced the charge.
Justice Brewer earlier discharged Jesse Hartley, 28, of Mount Maunganui in relation to a manslaughter charge. The reasons for doing so have been suppressed.
For more articles from this region, go to Bay of Plenty Times