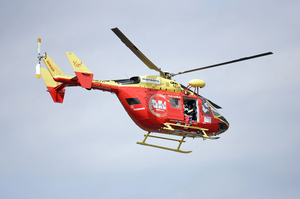 Two men standing on an upturned boat and one man found clinging to the hull were rescued after they set off their distress beacon off the Waikato coast over the weekend.
The men activated their distress beacon at 5.45pm on Saturday after their seven metre hard-topped trailer boat was hit by a wave and rolled when they were pulling up the anchor, Rescue Coordination Centre New Zealand Search and Rescue officer Chris Henshaw said.
They had been out fishing for the day and their boat was 11.5 nautical miles west-north-west of the Kawhia Harbour entrance.
A Westpac Rescue helicopter from Auckland and the Coastguard vessel Gallagher Rescue found the trio about 7.30pm.
The two men standing on the boat were wearing lifejackets but the man clinging to the hull was not, Mr Henshaw said.
- APNZ