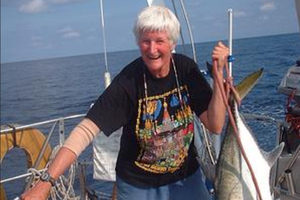 The rescue operation for the American schooner Nina resumed this morning at 9.30am.
An Air Force Orion is searching an area north of Northland using visual and radar methods to look for any sign of the missing schooner or its life raft.
The search area, centred 160 nautical miles north of North Cape is expected to cover approximately 3,780 square nautical miles, and has been calculated for a life raft search, Rescue Coordination Centre New Zealand (RCCNZ) Mission Controller Jeff Lunt said.
The seven-strong crew of the classic 21-metre racing yacht, which was sailing to Australia from Opua in the Bay of Islands, was last heard from on June 4.
The search area was narrowed down overnight based on numerous factors including ocean drift patterns, RCCNZ spokeswoman Sarah Brazil said.
Yesterday an Air Force P3 Orion searched an area northeast of Northland, without success.
"Visibility was good, but unfortunately there was no sign of the missing life raft or schooner," said RCCNZ mission controller Mike Roberts.
The search followed an extensive aerial shoreline search along the northern west coast of New Zealand, an area determined by the RCCNZ based on drift modelling from the last known position of the yacht and two days of coastal searching.
RCCNZ was liaising with Rescue Coordination Centre Australia which was assisting with broadcasts on coastal radio.
New Zealand Maritime Radio was continuing to conduct broadcasts in New Zealand's search and rescue region.
The 84-year-old wooden vessel, owned by American David Dyche, 58, was heading for Newcastle, Australia.
Mr Dyche was travelling with his 60-year-old wife, Rosemary, their son David, 17, a 35-year-old British man and well-known maritime technology expert Evi Nemeth, 73.
An 18-year-old American woman and 28-year-old American man were also on board.
They left the Bay of Islands on May 29 and their last communication was a text on June 4.
- APNZ