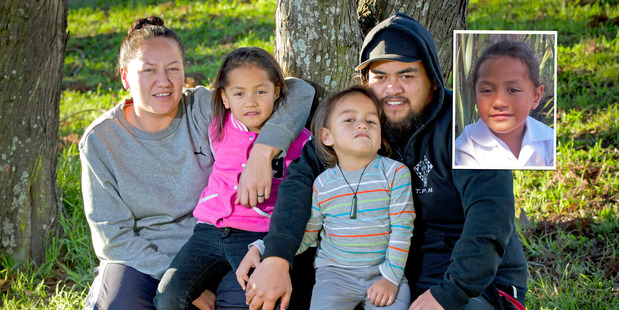 The father of a 5-year-old girl who suffered horrific burns when her skirt caught fire says he and the girl's twin sister will be forever haunted by the harrowing night.
Joedecy Huata-Miria's ballet dress went up in flames when she moved close to a gas heater at her grandmother's Flaxmere home last Saturday.
Tuakana Miria has been with his daughter at Middlemore Hospital since Tuesday with his partner Michelle Huata.
"It's only the start of our journey, we will be here for at least 10 months," he said. "I struggle to handle all this stuff - it will hurt for a long time, a father is supposed to be there for his kids."
Joedecy's twin sister, Faedecy, witnessed the ordeal and their father said it was as if she was living through her sister's pain.
"We've had to talk to the psychologist about the things she's been doing, things she's been remembering from that night, she's seen it all.
"Every time she comes into the hospital her personality changes, it comes right down. For a little girl it's been really sad, she has been traumatised."
Doctors have indicated treatment, including temporary skin grafts, have been successful, and Joedecy remains stable in the hospital's intensive care unit.
"She's still heavily sedated, everything is going to plan, the doctors said.
"Jojo's been breathing by herself and they told me that was a really good sign - she is aware but never fully awake."
Mr Miria tearfully said his daughter wouldn't have survived had it not been for the heroics of her grandfather, who acted quickly and without fear as he smothered the fire and rushed the 5-year-old to the shower.
"The way he tells the story of that night, it's just so horrific, it's like I was there and I can feel it, see it all happening. His hand is all fat and when I asked him how he did that he just said: 'don't worry about that', but it was from him putting out the fire with his hands.
"My dad's got a heart of stone and it's not like him to break down," he said. "It's just so scary and a few seconds longer it would have been all over, he got there just in time, I'm so proud of my dad," said the 27-year-old.
He told Hawke's Bay Today last Sunday that he didn't recognise his daughter when he first saw her.
He said the support he and Joedecy had received from family, friends and strangers had been overwhelming.
The family is staying at the whanau house at Middlemore Hospital, designed to accommodate patients' family members in an emergency situation.
"Everyone up here has been really good, so lovely and kind to my family. "It's going to be a long journey but my baby will be OK, we are all here, just waiting for her to open her eyes," he said.
- APN