The four leading Ikaroa-Rawhiti byelection candidates share their final thoughts about their four-week campaign with Lawrence Gullery before people vote tomorrow night.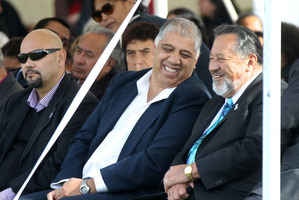 The Ikaroa-Rawhiti byelection has been "like a hard-out sprint race" which crosses the finish line on Saturday night when the Maori electorate's new MP will be revealed.
Mana Party candidate Te Hamua Nikora cast his vote in Napier yesterday and would be in Hutt Valley today for some last minute campaigning, driving back up to Gisborne where he would spend election night.
He had enjoyed being a first-time candidate and would contest next year's general election, no matter what the outcome of the vote tomorrow.
"I would say the byelection has been a hard out sprint race over the past three weeks. By far the key theme from each town we've gone to, to meet the people, has been poverty, housing and jobs."
He said the three issues were not exclusive to Maori but were common among lower income communities around New Zealand. "And it just so happens that Maori make up the majority of that group."
Mr Nikora, a television entertainer, said it had been difficult to campaign against the other candidates but they had agreed they would not campaign on personal issues but focus on challenging policies.
Mr Nikora, of Gisborne, thought his work as an entertainer and motivational speaker gave him the ability to connect with people.
"I'm not going to go down to Parliament singing and telling jokes. When I'm there I will do what is required but when I am out of Parliament, I will be the laid back Te Hamua that everyone knows and can relate to."
His campaign in the past couple of days had included visits to Wairoa to encourage people to vote.
"I'm saying you need to vote to have a voice, to make a difference, otherwise you're wasting your privilege to vote in the first place."
Maori Party candidate Na Raihania, Bridge Pa, said he did not put much "stock on unscientific polls"which have suggested the Mana party's candidate was leading the byelection.
"The evidence of a good poll is in the work that we do as candidates on the ground. To win this election you must have earned the trust of the people and that is done kanohi ki te kanohi (face to face) with a results-based kaupapa (policy).
" ... if anything, there is a groundswell of support for my campaign as a steady politician, grassroots-based with a plan that is embedded in the future of whanau, especially rangatahi."
He campaigned against Parekura Horomia at the 2011 general election and his experience in the byelection confirmed what people were looking for in their new MP.
"Voters are looking for the person that can give them hope and inspiration someone who walks with the people and articulate their concerns from a position of knowing and feeling the mamae (hurt)."
Senior community leaders in Wairoa were worried about people not voting in the by-election.
"Whanau will vote if they see a genuine interest in their community by a sincere person who cares for the people. It's about political parties being relevant to the constituents."
Mr Raihania believed his strong profile from the previous election and his continued work in the electorate would help give him the upper hand when it came to counting votes.
"After the last election I stayed with the people when times were hard. My vision is for every child to be fully clothed and to be loved, secure employment for all whanau and every grandparent to feel warm and safe in their home."
Green Party candidate Marama Davidson has been busy in Hawke's Bay during the byelection, speaking at meetings held to discuss oil and gas exploration in Dannevirke, state housing in Maraenui and the Ruataniwha dam in Clive, to name a few.
"The big theme coming from those meetings at Clive and Maraenui is the lack of democracy and accountability, from central and local government, over decisions which have been made over the top of those communities.
"Maraenui meeting was huge and very much driven by grass- roots people in the community."
Ms Davidson has worked for the Human Rights Commission as an educator and works for the Owen Glenn Inquiry into family violence and child abuse.
She grew up in Whirinaki valley and had recently lived in Auckland and Ruatoria.
She is a keen user of social media and has been lifting her profile online with constituents. But it was a mixture of whakapapa, or family connections, with policies which really connect with people out on the campaign trail.
"In a Maori seat, whakapapa plays a huge part but people also want to know what you stand for and what your vision is. What I've learnt is that people really want jobs but not at the cost of papatuanuku (environment)."
Ms Davidson launched the Green Party's jobs package for Ikaroa-Rawhiti yesterday. It included developing a true carbon price on forestry, to ensure investment in the industry which will incentivise reforestation on Maori land.
"In other areas, there are so many people calling out for the rail to be restarted, to get trucks off the road. There are also jobs to be created through conservation work, cleaning our rivers, waterways and dealing with erosion."
Ms Davidson said she thought people would vote for her ahead of the other candidates because she brought "passion and practicability"to politics. I will offer a calm, fresh new start for people."
Labour Party candidate Meka Whaitiri said people in Ikaroa-Rawhiti had been ignored by the Government for the past five years. Places like Wairoa were "full of talent" and the Government needed to work harder to engage with local champions that were working to make politics relevant to people again.
"We need to connect with our people, be solutions-focused and provide opportunities and pathways. I believe that if Government makes real change and enables communities to thrive, our people will participate and vote."
Ms Whaitiri, from Whakatu, said job wages were low, cost of living was high.
"It is hard seeing 106 empty homes in a small community like Maraenui, particularly when you meet a whanau across the road, living in a three-bedroom whare with 12 adults and five children that do not meet the Housing NZ eligibility criteria for state homes."
Ms Whaitiri said people around the campaign trail wanted someone to listen to their problems and opinions. She thanked those who had taken the time to share their stories.
She discovered the campaign required candidates to "bare your soul, day in and day out".
"Our people have had enough of small talk. They want to know who you are, where you come from and what you have done for our people."
She believed her experience working in the freezing works and shearing sheds to her public service work and appointment as chief executive of the Ngati Kahungunu Iwi would make her the suitable MP.
"I love our people and I have served our people for my lifetime. Ikaroa-Rawhiti deserves a strong candidate."
For more articles from this region, go to Hawkes Bay Today