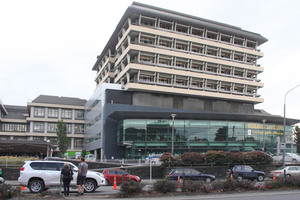 A fire at Christchurch Hospital this morning was sparked by workers using a grinder.
Firefighters rushed to the hospital after the fire about 11.30am today, Sergeant Lindsay Turner of police southern communications said.
"From what we understand there's some workmen there and they've set fire to some ducting up on the top floor. They'd been doing some grinding work.
"It's been a full turn-out because it's a public hospital and lots of people involved."
Mr Turner did not know whether the whole hospital had been evacuated or whether the fire was under control yet.
Staff and patients were given the all clear to return to Christchurch Hospital shortly after noon.
A hospital spokeswoman said the ventilation system and plant room were now back up and running.
She said five patients were in the hyperbaric chambers at the time of evacuation.
"Those patients were all able to be safely decompressed and go home. The hyperbaric unit has since reopened and it's business as usual.''
- APNZ