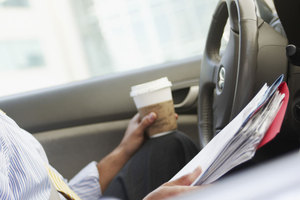 An opportunist entrepreneur offering flat whites to Hamilton motorists waiting at traffic lights is putting his life in danger, police say.
While admiring his initiative, both police and Hamilton City Council are concerned about reports of his activities at a busy city intersection.
"From what we understand a man has been walking out into the intersection of Forest Lake Rd and Victoria St while the lights are red and offering to sell coffees to waiting motorists," said Sergeant Phil Ruddell of the city's strategic traffic unit.
Aside from creating a risk to himself and other road users, the man's activities breach section 29 of the Hamilton City Council's Traffic Bylaw which, in paragraph b) states, that attempts to sell to, advertise or trade with any person in any vehicle stopped on any road is an offence.
Mr Ruddell said the rules applied not just to window washers, but coffee sellers as well.
"This is an activity which poses unnecessary risk to not only the participants but drivers as well which is why there is a bylaw against it," he said.
"Rather than heading straight down the enforcement line we will seek to speak to the vendor to get him to adhere to the bylaw but if this is unsuccessful we will take action."
- APNZ