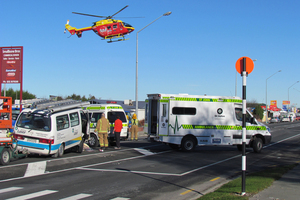 An elderly man who died after he was hit by a van while riding his mobility scooter on a pedestrian crossing in Ashburton has been named.
Francis (Frank) Brendan Tully, 89, died in Christchurch Hospital early yesterday following the accident on Monday morning.
Police said yesterday it appeared Mr Tully was halfway over the crossing on his mobility scooter on Archibald Street on Tinwald's main street when a van towing a cherrypicker struck him.
Enquires into the incident are continuing.