Second suspect not ruled out in offending which has targeted elderly women.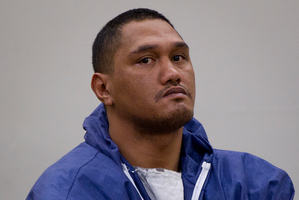 The chance there could be a second man targeting elderly women in Auckland has not been ruled out by police, who have urged senior citizens to stay vigilant.
William John Murphy, 36, is accused of a week-long crime spree in which he allegedly targeted three elderly women. He appeared in the Auckland District Court yesterday to face 15 charges - 14 stemming from alleged offending between June 17 and 24 and one unrelated charge of stealing a vehicle.
Despite his arrest police say they are "keeping an open mind" as to whether anyone else was involved in the offending against elderly women over the last week.
Detective Inspector Karyn Malthus would not be drawn on whether there was anyone in particular being sought. "We are focused on identifying the offender who has been pretending to be a police officer," she said.
"For this reason I ask that you repeat our public safety message, particularly for the elderly - remain cautious, do not open the door to strangers and if you are unsure if a person is a police officer then call us on 111 and we will verify."
It was a call backed by a woman injured during a home invasion, allegedly committed by Murphy at the weekend. The 74-year-old, who cannot be named for legal reasons, was punched in the face and thrown around the room.
"Do not open the door to anyone. If anyone wants them, they can phone them," she told One News.
"If they have fears, ring 111 immediately. Don't delay. Make yourself as secure as you can in your home, even lock yourself in a bedroom."
Fresh details of the attacks were revealed during Murphy's court appearance yesterday. Last Monday he allegedly stole a Honda Prelude from a Remuera address and robbed its owner of $580 cash, a phone and a pair of white socks.
Police say last Thursday Murphy unlawfully detained a 79-year-old woman in her Westmere home before stealing two of her credit cards and $130 cash. He is also facing a charge of using her credit cards.
It is further alleged that on Saturday night Murphy detained a 74-year-old Pakuranga woman and subjected her to an indecent assault before threatening her with a knife as he robbed her of $284, a credit card and a pair of green bed socks.
He was caught on Monday after allegedly stealing a woman's handbag near Puhoi, fleeing police and crashing the car stolen from Remuera before taking off on foot.
His alleged Remuera victim was believed to be staying with her children. Her neighbour said the robbery had given everyone in the community a fright. "We're a lot more alert now," she told the Herald.
Murphy appeared in the Auckland District Court just after 12.30pm yesterday. He was dressed in a blue police-issued boiler suit and flanked by two officers. His lawyer Paul Eastwood told the court Murphy would defend the charges.
"He denies the allegations ... 'I'm still an innocent man' he says," said Mr Eastwood.
Judge Anne Kiernan remanded Murphy in custody for two weeks.
He will appear again on July 16 via an audio-visual link from Auckland Central Remand Prison.additional reporting:
Andrew Koubaridis