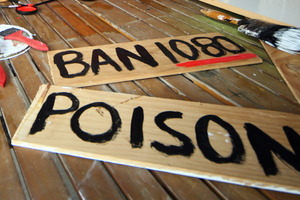 A West Coast anti-1080 group has been ordered to pay $10,000 in costs after taking on a 1080 poison supplier in court.
Environment Court Judge Jane Borthwick, in a decision released today, ordered Te Whare o te Kaitiaki Ngahere - made up of 1080 activists from the Hari Hari area - to pay costs to State-owned Animal Control Products Ltd, which supplies the poison pellets.
Te Whare is made up of West Coast farmers, business people and those opposed to the toxin. Much of their case so far has been compiled by Phil Paterson, from Hari Hari.
The group says it is considering appealing the judge's ruling on costs.
The group asked the court to rule that 12 resource consents granted by the West Coast Regional Council for the Animal Health Board had been contravened.
They made 57 allegations relating to 39 different people, about how they did - or did not - act. Their application for the declaration ran to 140 pages and contained 22 affidavits running to several hundred pages.
Among their claims were that Animal Control Products failed to implement certain operating procedures, failed to ensure 1080 baits met standard size, failed to follow the manufacturer's instructions to protect birdlife, and contravened Ministry of Health permits.
In April, the court struck out the declarations relating to Animal Control Products. The company subsequently sought court costs of $16,664, saying Te Whare's arguments were without substance, the process of the court abused and the case poorly pleaded and presented.
Animal Control Products did not hold any of the resource consents being debated in court. It made and supplied the poison, but did not apply it.
It claimed the wording of Te Whare's case was confused and documents were incomplete.
It also said the anti-1080 group failed to comply with court directions.
In response, Te Whare told the court it had acted in the public interest but lacked the finances to employ a lawyer, so mistakes were made.
The case against Animal Control Products was withdrawn early on and the University of Otago, in a similar case, did not make an application for costs.
But Judge Borthwick said the court had warned early that the "conduct" of Te Whare's case made it vulnerable to having to pay costs. She ordered it to pay $10,000 - about 60 per cent of what Animal Control Products had sought.
The judge stressed the costs were not to penalise Te Whare, but to compensate Animal Control Products.
Te Whare spokeswoman Mary Molloy, of Hari Hari, said today the rest of the case was still before the court, and only a small amount had been taken out.
Te Whare members represented themselves in court, but were fighting large law firms like Chapman Tripp.
If the group did appeal on costs and lost, it would keep fundraising to meet the costs, she said.
- Greymouth Star