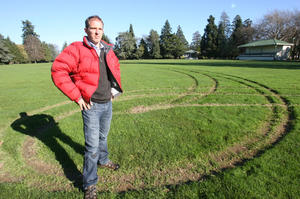 Stories making headlines around the country today include outrage after vandals tear up the oval at Masterton's Queen Elizabeth Park and tiny critters causing problems.
Wheel-spinning vandals have driven cars on to the oval at Queen Elizabeth Park, carving deep ruts in the grassed surface.
A rodent problem in the Far North has compounded concerns for poorer families amid the cold snap, as some children are having to sleep on flimsy mattresses on floors instead of beds.
Ollie Williams thought he was going to die as he lay pinned beneath a jetboat on the Ngaruroro River, trapped underwater and running out of air.
A Wanganui man has died on his birthday in unusual circumstances in Australia.
The proportion of parents paying school fees is as low as 35 per cent at one Bay high school.
Restricted access to the damaged Clifton Motorcamp has angered locals.
School sexuality education programmes need more of a focus on abstinence, a Rotorua principal says.
Police clan lab specialists are investigating whether a Mid North shed razed by fire last week was being used to manufacture the drug P, or methamphetamine.
After battling the elements 82-year-old Naseby farmer Rex George didn't know whether to laugh or cry.
Finally, some good news for organisers of the 90 mile Beach Snapper Bonanza surfcasting competition who had thought the 2013 event would be the last.
Other stories making the news:
Samurai swordsman asks for help
Police called about victim before accident
Man faces charges after P-lab explosion
Pilot denies lift-off in fog was careless flying
Lawyer fined for failing to stop