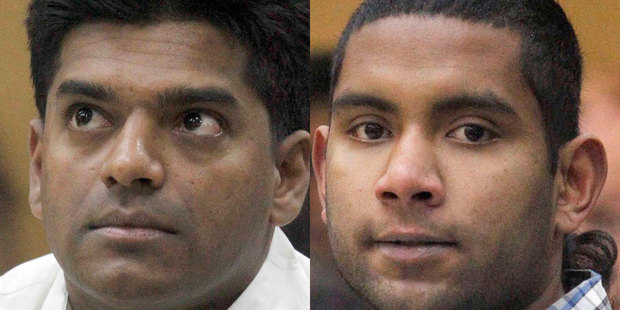 Canterbury dairy farmer Sameera Chandrasena Battelage was brutally murdered after an eight-month affair, a court heard today.
And the two men jointly charged with cutting his throat and setting his body on fire both blame each other for the murder.
On the opening day of the High Court trial in Christchurch, Viraj Alahakoon, 34, and Thuvan Prawesh Sawal, 24, admitted visiting the cricket-loving Mr Battelage at his rented farmhouse on Domain Rd, just outside Oxford in North Canterbury on February 23 last year.
The Crown says Mr Battelage's neck was stabbed or cut six times before his body was doused in petrol and set alight.
His badly charred body was found by firefighters later that morning.
Both accused deny attacking him.
"He was there, but not involved," said Alahakoon's counsel Kerry Cook.
"Mr Sawal was responsible for the murder and arson, not him."
Alahakoon and Sawal, both of Christchurch, are jointly charged with murder, as well as arson.
Alahakoon, a jeweller and former team-mate of Mr Battelage at Oxford Cricket Club, is also charged with assaulting a woman, who has name suppression, with a pair of scissors on December 5, 2011, and again on Boxing Day that year.
John Brandts-Giesen, counsel for Sawal, however, said his client was "totally stunned" and "scared beyond belief" when Alahakoon killed their mutual friend.
Sawal denies any guilt, saying he was used as "bait".
Earlier, the Crown alleged that Alahakoon was furious with Mr Battelage for having a sexual relationship with a woman he knew between October 2010 and June 2011, and enlisted Sawal's help to exact fatal revenge.
The woman who had the eight-month affair with Mr Battelage gave evidence today from behind a protective screen.
She told how she needed someone to talk to and had struck up a friendship with the dairy farmer.
They slept with each four times before she decided to break it off.
But in the months leading up to Battelage's death, Alahakoon and Sawal agreed he should be killed, the Crown says.
Mr Stanaway said the pair visited his rural property around 8pm on February 22.
All three went to Oxford Working Mens Club where they drank and watched cricket on TV, before returning to his home.
Mr Battelage then sent text messages to friends, saying "something going wrong".
"Sadly, his acute premonition came to be fact," Mr Stanaway said.
The Crown says that the movements of Alahakoon and Sawal that night were captured by CCTV and security technology.
They dumped their clothes, which had the victim's blood on them, outside a red zone property, Mr Stanaway said.
The trial, before Justice Christian Whata, continues tomorrow.
- APNZ