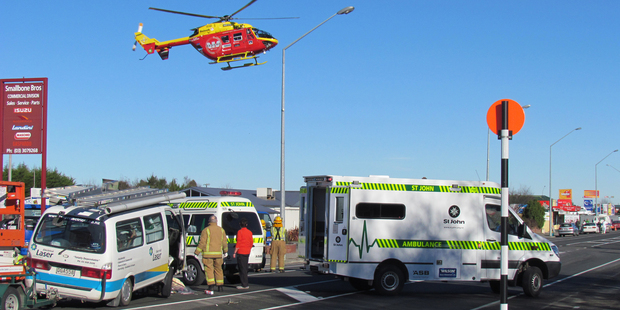 An elderly Ashburton man has died in hospital after he was struck by a van while riding his mobility scooter over a pedestrian crossing.
The 89-year-old man was airlifted to Christchurch Hospital yesterday about midday.
Last night, a Canterbury District Health Board (CBHD) spokesperson said the victim was in a critical condition in intensive care.
He died this morning in hospital.
Senior Sergeant Grant Russell said it appeared the man was halfway over the crossing on his mobility scooter on Archibald Street, outside Smallbone Bros Commercial Division on Tinwald's main street when a southbound van towing a small cherry picker struck him about 11.20am.
The van eventually came to a stop about 10 metres after the crossing.
"We will continue investigating, there's no way we are chucking fault at anyone at the moment," Mr Russell said.
Three police cars, two fire engines and two St John ambulances attended the accident scene, while the van's young male driver, visibly shaken, was consoled by onlookers.
Ashburton volunteer firefighters jacked up the van while St John staff treated the man on the road, before the Westpac Rescue Helicopter landed on Archibald Street to take him to Christchurch Hospital.
Traffic was diverted down Graham Street, Agnes Street and Lagmhor Road for more than an hour.
A witness at the scene, who did not want to be named, said the man was well-known in the Tinwald area.
Mr Russell said it was vital both pedestrians and motorists heightened their awareness at pedestrian crossings.