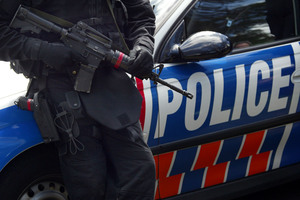 A 26-year-old man has been arrested following a shooting in the Auckland suburb of Orakei this afternoon.
Police said he was arrested "without incident'' in the Orakei area.
Police were not seeking anyone else in relation to the incident.
Auckland City District detectives will interview the man this evening, before deciding what if any criminal charges will be laid, police said.
Emergency services were called to Kupe Street just before 1pm after a residents reported a man had been shot and had been seen running from the area bleeding from a head wound.
Witnesses described the weapon involved as looking like an assault rifle.
The area was cordoned off while police searched for the alleged shooter and the victim.
The victim was found near the scene of the incident.
He was taken to Auckland City Hospital by ambulance in a serious condition, suffering from a wound to his temple.
One Kupe St resident David Lett said he called police when he saw a man holding a gun chasing another man.
He did not hear the shooting.
'It looked like a hunting rifle with a telescopic sight, but he wasn't pointing it at anybody,'' Mr Lett said.
Do you know more? Contact the Herald here.
- APNZ