Despite the economic climate, 55 restaurants have popped up in central Auckland within a year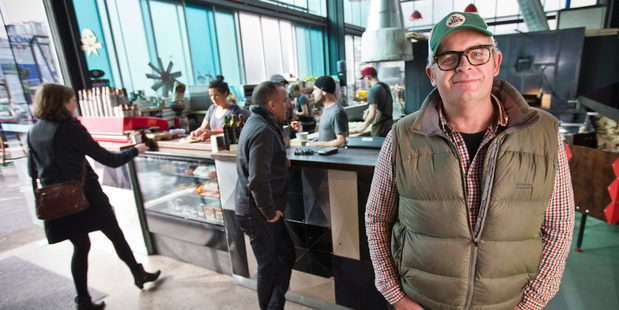 The Auckland restaurant scene is showing no signs of being in hard financial times.
In the past year, 137 new establishments have opened, and fewer than 30 have closed their doors.
The restaurant boom is being driven by groups opening eateries at multiple spots and the rise of dining destinations in trendy spots.
Downtown Auckland is the area which has had the largest number of new restaurants and cafes in the past financial year.
Fifty-five new licences have been granted by the Auckland Council.
One was for Al Brown's new venture, Best Ugly Bagels, which opened this year at the City Works Depot in Wellesley St.
Mr Brown said he had dreamed of opening a wood-fired bagel store since going on his OE about 20 years ago.
And after the success of his award-winning eateries, Depot in SkyCity and the Logan Brown Restaurant and Bar in Wellington, he's been able to bring his bagel dream to fruition.
The key to running a successful business in today's economic climate was dedication, Mr Brown said.
But having it in area with a big population helped.
"If you've got a good operation offering a great product, there's lots of people and they just keep coming and coming and coming.
"New Zealanders still love going out - they might not go on an overseas trip, they might not do the renovations in the house, but one of the last things they want to give up is their coffee or their glass of wine or their food."
A survey by Mastercard found that New Zealand is 10th on the list of the countries that spend heavily on dining out. Last year on average, Kiwis spent $149 a month on dining, up from $132 in 2011.
And because so many people are choosing his restaurants, Mr Brown is able to open another enterprise in August, next to the Depot. This one will have more of a fine dining feel.
One of the advantages of running more than one venue was that you could give customers variety while "having the same feel".
"It's all under the same umbrella. We're trying to create a brand that sort of makes sense, but we're not just rolling out the same thing or franchising something. It all seems to sort of fit."
Food writer Nici Wickes said groups opening on more several sites, sometimes with the same branding - such as Mexico - was becoming increasingly common.
However, some owners opened multiple eateries under different names so the public may not know they were owned by the same people.
Wickes said this lent itself to "economy of scale" for business owners because the establishments could share resources, for example, hiring and training of staff. But these businesses could have their downside, she said.
"[The] risk is that we end up with a dining scene with fewer smaller independents, and it is these which offer differentiation in the marketplace."
Wickes has also noticed a trend towards clusters or precincts of dining options which provided "destination dining" and competition, which was good for business.
One of those hubs is the Britomart area, which is home to more than 20 bars, cafes, takeaway joints and restaurants.
The variety of options in the precinct enables people to have drinks, dinner and a dance all within walking distance. One of the restaurants is the flagship of the Mexico group, which has expanded to Takapuna and Hamilton.

Numbers
• 137 - New restaurants and cafes have got licences since July last year
• 55 - Are in central Auckland
• 3,838 - Cafes and restaurants in Auckland
Source: Auckland Council