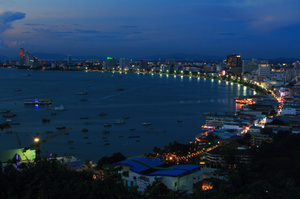 New Zealand Police say protocol was responsible for the delay in notifying a Dunedin mother of the death of her Dunedin-born son in a Thai apartment complex.
The family learnt of his death from radio reports on Wednesday morning.
Alan Patrick Mouncey, 38, was found dead with a head wound in the bathroom of his apartment in Pattaya, Thailand, on Monday.
The Dunedin-born British passport-holder was discovered by a housekeeper and Thai police were speculating Mr Mouncey may have suffered an acute medical problem and collapsed.
Mr Mouncey's uncle, Keith Harper of Dunedin, said he learnt of his nephew's death on an early morning radio news report on Wednesday, and called Mr Mouncey's mother, Carol Clarkson.
At the time, she had not been notified of her son's death by New Zealand police.
Mr Harper said some family members were angry with the way they had learnt of Mr Mouncey's death.
Senior Sergeant Mel Aitken, of Dunedin, said New Zealand police only became involved in the deaths of New Zealanders overseas if they were asked to notify next of kin.
"This notification can come through various channels. However, the Ministry of Foreign Affairs and Trade takes primary responsibility when a New Zealander dies overseas.
"In this case, New Zealand police did not receive a notification to advise next of kin of the death of Mr Mouncey prior to the story appearing in the media.
"Mr Mouncey was travelling on a British passport, so protocols dictate the Thai authorities liaise with the British embassy who provided consular support, which would include notifying next of kin, if such details were available."
Mr Aitken said given the circumstances, Dunedin police did their "very best" to liaise with Mrs Clarkson over the matter, and Mrs Clarkson had contacted local police to express support and appreciation for their assistance.
Mr Mouncey had been on an overseas excursion in London, and was returning to Dunedin via China and Thailand.