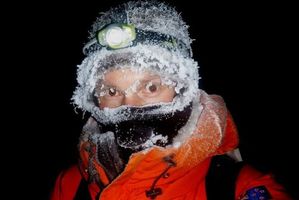 If you think it's going to be cold where you are this week - just remember it could be worse.
The current temperature in Antarctica, the origin of a polar blast hitting the country this week, is a glacial -38deg.
Colin Arthur, a winter engineering supervisor and carpenter at Antarctica New Zealand's Scott Base, took this self-portrait as he made his way back to base this morning.
His fellow crew members wintering over at the base aren't due to see the sun until mid-August, and though skies over Scott Base are relatively clear and starry, NNE winds are blowing at 30km/h, and gusting at 50km/h.
Mr Arthur told Antarctica New Zealand's Lisa-Marie Brooks he acquired his "winter look" each time they stepped outside.
"Whenever the team venture outside they come back frosted," she said.
"Headlights are an essential addition to the extreme cold weather gear issued to all of the winter team as its dark 24/7, with the only real light relief coming when there is a full moon."
- NZ Herald staff