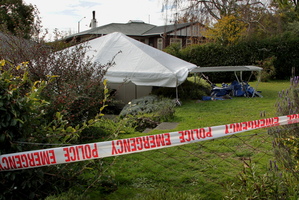 The man accused of stabbing to death the mother of his children in Havelock North earlier this month appeared in court today charged with murder.
Raymond Shane Christison, 48, was found with cuts to his throat and wrists after the police allege he stabbed his former partner Gail Bower at her home on June 7.
Christison first appeared in Hastings District Court last week where he was granted name interim suppression, which lapsed today.
Flanked by two police officers he appeared in court today with bandages to his arms and neck.
He was initially charged with male assaults female in relation to the incident but court documents show he is now also charged with murder and breach of a protection order.
Christison's lawyer, Tony Snell, said a forensic psychiatrist's report would be sought before his clients next appearance in court.
Ms Bower, 48, was farewelled in Havelock North last week at a funeral attended by over 300 mourners, including her two sons she had with Christison.
Ms Bower and Christison had recently separated after more than 20 years together and were living apart at the time of the alleged incident.
Christison was remanded without plea today to reappear on July 9.
For more articles from this region, go to Hawkes Bay Today