School denies claims of fake jobs being offered to international students.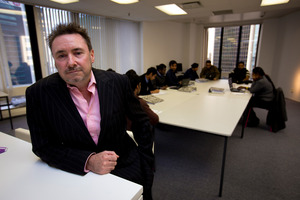 A private college in central Auckland, Hygiene College, is being probed for allegedly offering fake job offers to international students.
Responding to a Herald query, Immigration New Zealand said it had executed two search warrants in "central Auckland" last month but did not name the location.
But the college confirmed its offices had been raided on May 9 and said it was "co-operating fully" with the investigating authorities. It says it has done nothing wrong.
Immigration fraud and compliance national manager Peter Elms said the searches were related to a multi-agency investigation and had been executed with the assistance of the police.
"We have received allegations concerning possible offences against the Immigration Act, relating to the provision of false and/or misleading information to Immigration," Mr Elms said.
"Specifically, non-existent offers of employment to enable individuals to obtain work visas."
Hygiene College offers courses on food handling and hygiene, and runs a month-long certificate in hygiene education course.
According to its website the fees were $25,000 plus tax, but refundable if a student withdrew or got expelled "for whatever reason".
The college also guaranteed all graduates employment and a minimum annual starting salary package of $55,000.
"On completing the course graduates are guaranteed a job as a hygiene specialist at any Hygiene Foundation office worldwide."
Names of 13 recent graduates, mostly students from India, were also listed on the college website.
The New Zealand Qualifications Authority said Hygiene College could not lawfully enrol international students as it was not a registered Private Training Establishment (PTE).
"PTEs must be registered with NZQA if they are enrolling international students on a programme or training scheme," said authority spokesman Lloyd Quartermaine.
Mr Quartermaine said the authority was looking into the situation alongside Immigration NZ.
Education New Zealand spokeswoman Rose O'Connor said an education provider which enrolled international students must also be a signatory to the code of practice for the pastoral care of international students.
College spokesman David Blake said the college sourced students locally and did not believe it needed to be registered with NZQA.
"Our students may be international students from India, but they already hold student visas from other New Zealand schools before enrolling with us," Mr Blake said.
"Also, what we're offering is just a life skill learning programme very much like swimming lessons, not academic courses."
Mr Blake maintained the offer of guaranteed employment for all graduates was "100 per cent true".
On the raid by Immigration, Mr Blake said: "They came, they took our computers, that's fine ... they've got a job to do."
"But I think they are just wasting their time as we have done nothing wrong, and I am certain the investigations will confirm we have done nothing wrong."
Mr Blake said there were 15 students enrolled at the college.