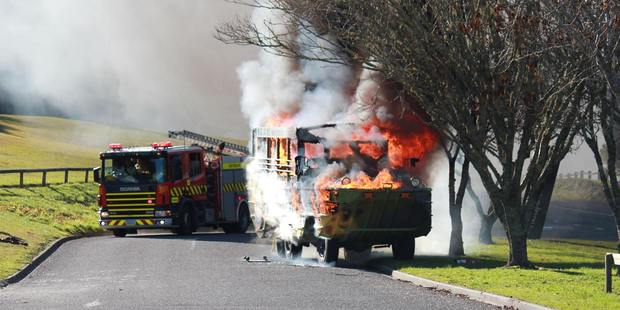 Stories making headlines around the regions today include Rotorua's iconic duck bus getting into trouble and a psychic trying to track down a lost puppy.
Passengers on board the Rotorua Duck Tour got more than they bargained for on Friday.
Ginny Mackay's family are hoping to track down their lost puppy using a psychic.
When Allan and Joan Ladlow heard what happens to greyhounds after they finish racing, they were shocked into action.
Three months after she broke her neck in a freak accident, Tauranga woman Amanda Lowry is finally home.
About 700 people yesterday toured a Wanganui home which was ravaged by fire.
"Naughty boys" attempted to burn down a Taradale butchery over the weekend.
A Carterton schoolboy is on the way to recovery after he attempted to strangle himself.
A woman who died after being struck by two different vehicles in Gonville on Friday night would have celebrated her 27th birthday today.
A drunk Whangarei man held his teenage daughter in his room and attacked her with a machete.
A warning circulating social media about headlights is a hoax - at least in New Zealand - and people are being urged to ignore it.
Tauranga woman Sandra King set up three orphanages, adopted a child and cared for almost 600 others during her 20 years in China, but her work is not complete.
Cupid could soon be lining Tom Pulham up for an arrow to end his loneliness.
And finally, bleak weather failed to dampen the spirits of swimmers at the annual Polar Plunge in Dunedin yesterday.
Other stories making headlines around the regions today:
Hard slog ahead for rockquest finalists.
Book could become another collectable.
See how hormones rule your life.