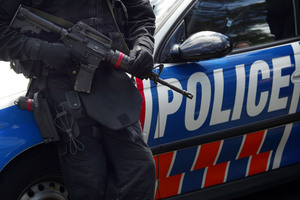 A man who fired shots at the police helicopter in Auckland and hit a police dog with an air rifle remains under police guard in hospital.
The 49-year-old was arrested after shooting outside a house on Awaruku Road in Torbay on the North Shore.
The police dog that brought the man down has been treated by a vet after receiving several hard blows from the rifle.
A hospital spokesman says the man is in a stable condition, and will have to have surgery for dog bites, which will most likely happen today.
North Shore Police say they will talk to the man as soon as he is well enough.
Charges have not yet been laid.