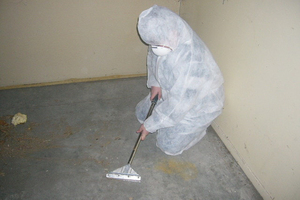 A real estate agent has been censured and ordered to pay costs after she sold a property with an asbestos ceiling when she had assured the buyer it did not contain the potentially harmful material.
Rachel Wright, who at the time worked for Property Brokers Limited Palmerston North, was taken to the Real Estate Agents Authority's complaints assessment committee, which today released its decision finding that her actions had amounted to unsatisfactory conduct when she sold the property last year.
It was told Wright had assured the buyer there was no asbestos in a ceiling in the house but after testing it the buyer found this was not true.
Wright maintained she had never received training on how to identify asbestos and was unaware there had been a wide application of the substance in homes in the area. She was oblivious to the fact asbestos could be found in ceilings at all.
The buyer was given a $25,000 discount for the property, and the agency also agreed to refund the vendor $15,000 in fees charged for the sale of the property.
The authority ordered Wright to pay a further $2900 for the complainant's legal costs.
- APNZ