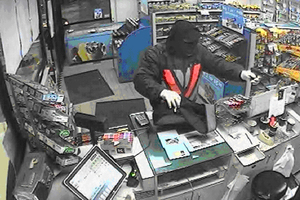 An armed man tried to stick up a Christchurch petrol station with a pistol last night but dropped the cash drawer on his way out, police say.
The incident occurred about 6.36pm at the Mobil service station on the corner of Main North Rd and Prestons Rd in Redwood.
Detective Senior Sergeant Darryl Sweeney said the lone male offender was armed with a black pistol.
"He threatened the attendant, reached over the counter and attempted to take the cash drawer, but dropped it and aborted the attempt."
The man ran out of the service station and got into a light-coloured four-door sedan, which had been parked on Prestons Rd.
He was described as a caucasian, about 180cm tall, wearing a black or green padded jacket, white gloves and a black balaclava or bandanna.
Anyone with information was urged to contact Mr Sweeney on 021 191 1463 or Christchurch police on (03) 363 7400.
- APNZ