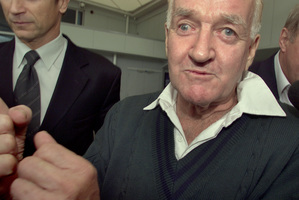 Tears shed for a "gentleman" criminal yesterday included those from the new family he founded while hiding out from police in the Philippines.
New family and old gathered in their grief to farewell life-long criminal Brian James Curtis in Auckland yesterday.
Mr Curtis died this week aged 79. He was a father, grandfather, great-grandfather - and a burglar, drug dealer and prison escaper on parole from a life sentence.
The mourners numbered about 100. There were those Mr Curtis knew from jail and from the life which led him there. There were the lawyers who helped him find freedom before he died and the television journalist who found her subject became a friend.
Monsignor Bernard Kiely told mourners: "I don't know if any of us will know the full story when it comes to telling the story of this man. He needs to make peace with God and that is part of our prayer today."
Barrister Andrew Speed, who assisted Mr Curtis with his bid for parole, described him as "focused and straightforward", while "quite charming".
Journalist Mel Jones interviewed his wife Daisy in the Philippines for 60 Minutes after Mr Curtis was jailed again in New Zealand.
Other mourners were less keen to speak - the code of silence in the underworld extended beyond death. "He was a gentleman," said one. "An old-time criminal."
Mr Curtis' daughter Larissa, from the relationship formed in the Philippines, stood as pallbearer among his older children from an earlier life.
An unsigned funeral notice in the Herald this week: "Escaped and at large. You won't get me this time."