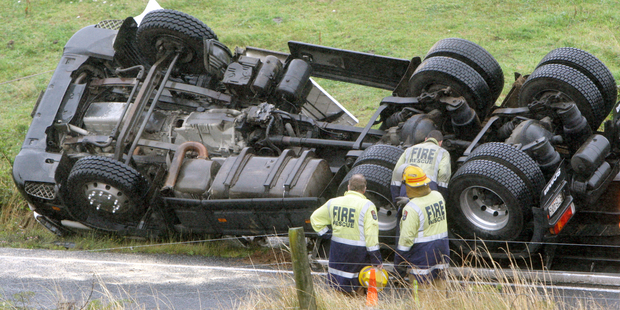 A Rotorua truck driver killed when his trailer rolled was texting at the time of the crash, an inquest has heard.
Garry John Galvan, 45, was driving a truck carrying 24,000kg of concrete from Rotorua to Tokoroa on the morning of January 24, 2011. While rounding a corner on State Highway 30 near Horohoro he crossed the centre line and the trailer overturned, crushing the truck cab.
Mr Galvan suffered severe chest injuries and died at the scene.
At today's inquest into his death, Sergeant Tony Bennett of the Rotorua police said in the minutes prior to the crash Mr Galvan had been exchanging text messages with his ex-wife, which would have distracted his attention from driving.
Mr Bennett said the road was wet and visibility was limited however Mr Galvan had 25 years' experience driving trucks, had driven that route before and would normally have rounded the corner without any problem.
Coroner Dr Wallace Bain said records showed Mr Galvan had sent or received 12 texts between 7.50am and 7.59am, which was about the time of the crash.
"The only credible explanation there can be is his attention was on the phone," Dr Bain said.
Mr Galvan's widow, Lynette Galvan, told the coroner it was her who found the text messages and she didn't dispute they were the cause of the crash.
She said it was "black and white" and her husband had done a "stupid" thing.
His daughter, Deby, agreed, saying she knew her dad sometimes used his phone while on the road.
"He always had to look at his phone," she said.
However, Mr Galvan's son Mark said he did not believe his father was texting at the time.
Dr Bain said thousands of New Zealanders were still texting while driving, so publicising Mr Galvan's "lapse" would hopefully prevent another family going through the same thing the Galvan family had.
"Others will read about it and this may make them think, 'Hey, hang on a minute, we shouldn't be doing this'."
Mr Bennett said unfortunately police were still writing plenty of tickets for motorists caught on cellphones while driving.
Dr Bain reserved his decision, but warned the family he was likely to make adverse comments regarding Mr Galvan's texting.
The Rotorua Daily Post reported yesterday that Rotorua police have been out in force this week as part of an ongoing operation enforcing the laws around cellphone and seatbelt use when driving.
For more articles from this region, go to Rotorua Daily Post