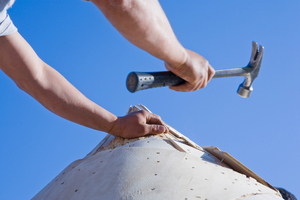 Burglars are targeting earthquake damaged homes that are being repaired a week after residents have temporarily moved out.
Detective Senior Sergeant Corrie Parnell said quake damaged houses in Cashmere, Strowan, Mt Pleasant, Spreydon and across the city are being targeted a week after residents have moved out to make sure the house is empty or just before repairs are finished to see if there are any new building materials they can take.
But the issue isn't helped by residents who police say are taking the safety of their belongings for granted.
"People need to take precautions when work is being done and take all their valuable items with them. You don't know who is going to be working in your house. If you are getting windows repaired and walls knocked out or if the house is scheduled for demolition, these houses become easier targets, especially at the end of the day when tradesmen go home because the site is no longer secure," he said.
Allan and Shireen Horwell moved out of their earthquake damaged Woolston home in April for five weeks while it was being repaired and had their safe, which contained wedding and engagement rings, their marriage certificate and surf lifesaving medals, stolen.
"I came back to grab some things over easter and noticed the safe had been stolen. I couldn't believe it. I spent 11 years training for two national surf lifesaving competitions in Gisborne and Dunedin. When the medals were taken I felt like a piece of me had gone. I was really, really angry and just wanted to hit someone," Mr Horwell said.
Detective Senior Sergeant Parnell said jewellery and tradesmen's tools are the most common items being stolen.
"Jewellery is a hot commodity for a would be crook to get rid of on the black market. Building materials including pink batts, copper spouting, kitchens, hot water cylinders and other items in homes scheduled for demolition are also being targeted. It's a wheel that doesn't stop rolling. People need to be cautious," he said.
Mr Horwell said when you leave things in your own home while it's being repaired, you don't expect anything to be taken.
"Whoever did this, has some nerve. There is nothing we can do but these items have no sentimental value to anyone else apart from my wife and I. We just want our belongings back," he said.
Detective Senior Sergeant Parnell urged people to take all their valuable items with them if they are moving out temporarily and also advised tradesmen to be safety conscious and take their tools with them, instead of leaving them on-site.