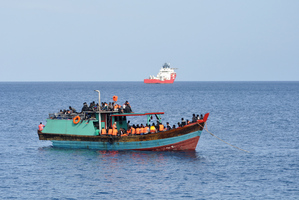 Controversial legislation which would allow boat people to be detained for up to six months was expected to pass another hurdle last night amid heated claims that it would create a "Guantanamo Bay" in New Zealand.
The Immigration Amendment Bill, which is designed to deter people-smuggling, was expected to pass its committee stages with support from National's coalition partners Act, United Future and the Maori Party.
United Future leader Peter Dunne's support was contingent on expanding the definition of a mass arrival of refugees from 10 people to 30 people.
The Government could have passed the legislation without Mr Dunne's vote, but it wanted all of its coalition partners on side.
Immigration Minister Michael Woodhouse said the bill sent a message to people-smugglers that New Zealand was not a soft touch.
He slammed Opposition MPs for suggesting that boat people would never reach New Zealand's shores.
"We heard references to ghost ships.
"We heard references ... that it was more likely that someone would come from Mars than Indonesia ... I can go through a number of publicly known attempts by mass arrivals who have New Zealand as their destination. They date back 10 years and they are continuing."
He added: "Anybody who believes that that could not have occurred forgets that most of our ancestors came here on wooden sailing ships and waka."
Mr Woodhouse acknowledged an amendment by New Zealand First leader Winston Peters to give the Corrections Department power to set up detention centres for illegal refugees within 24 hours of their arrival.
But he said it was not required because of a boost in funding for the Mangere Refugee Resettlement Centre, where most asylum seekers who arrived in a large group would be detained.
New Zealand First indicated that it would not vote for the legislation unless its amendment was supported. National also rejected Labour Party amendments which would have ensured that detention of boat people was a last resort and that any detainees held on premises other than the Mangere centre would be kept separate from prisoners.
Labour Party MP David Clark said it was a "scurrilous", unnecessary bill: "It introduces in New Zealand law provisions that are designed to ... provide the kind of set-up that exists in Guantanamo Bay."
Green MP Jan Logie pointed to a United Nations assessment of the amended bill, which said that it "unduly penalised" asylum seekers for illegal entry to New Zealand.
Mr Woodhouse said that large groups of asylum seekers would be held in a place which reflected their risk.
"[Mangere] is not a prison."
The bill
*Defines more than 30 illegal migrants as a "mass arrival".
*Allows mandatory detention of a mass arrival for up to 6 months.
*Allows further detention of 28 days with court approval.
*Allows refugee claims to be suspended and limits appeals for asylum.
For:
National, Maori Party, Act, United Future (64 votes).
Against:
Labour, Greens, NZ First, Mana (57 votes).