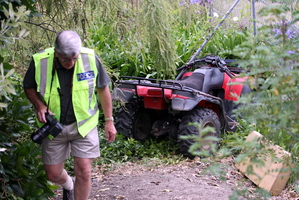 A man who seriously injured his six-year-old daughter in a drunken quad bike accident on January 2 in Hawkes Bay will be sentenced in August.
Daniel McGregor, 29, had previously pleaded guilty at Hastings District Court to a number of driving charges that stemmed from the accident in which three other adults and McGregor's daughter were seriously injured.
He reappeared briefly today on crutches and his appearance was delayed for a pre-surgery appointment at Hawke's Bay Hospital. Police withdrew three drugs charges that were laid following investigation of the accident and set a date for sentencing on the driving matters.
McGregor has previously pleaded guilty to four charges of excess breath alcohol causing injury and one of reckless driving.
He will be sentenced on August 7.
McGregor's daughter, Ashlee Shorrock, suffered face, neck, spine and back injuries when the quad bike her father was driving tumbled down a 2m bank.
Police allege McGregor was driving the quad bike on the night of January 2 in Waimarama after he had spent the evening drinking.
The quad bike was overloaded, with four adults and one child, when it crashed down the steep bank just before midnight.
Ashlee was thrown from the bike.
She was admitted to Starship Hospital in Auckland before being transferred to Wilson Rehabilitation Centre to recover.
The youngster returned to Hawkes Bay in late January and is doing well.
McGregor and the three other adult passengers all broke bones due to the accident.
For more articles from this region, go to Hawkes Bay Today