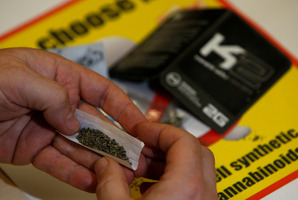 New Zealand Lotteries has demanded that 600 retailers stop selling party pills and synthetic cannabis alongside Lotto products.
The organisation wrote to independently-owned stories across New Zealand which sold Lotto products and asked them not to sell legal highs from July 1.
The move has been praised by Internal Affairs Minister Chris Tremain and new Associate Health Minister Todd McClay.
Mr Tremain said selling the psychoactive substances was not compatible with the sale of lotteries products.
"Profits from NZ Lotteries are returned to the community to help fund recreation, arts, community projects and sports.
"K2 and party pills have been linked to serious health effects and anti-social behaviour, including crime and violent offending."
A select committee is expected to report back this week on a bill which would ban all unsafe synthetic drugs from August.
Temporary bans are in place for 33 substances including the synthetic cannabis brand K2, but these bans would lapse in August.