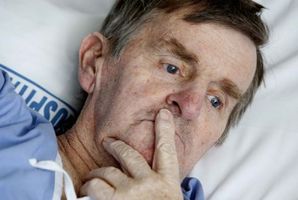 A Far North man has made a plea from his hospital bed to thieves for the return of his property they stole from his shed while he was getting cancer treatment.
Terry Wright is in Whangarei Hospital recuperating from an infection following surgery to remove cancer from his bowel.
Last Wednesday he was transferred from Kaitaia and over the next two days thieves helped themselves to items in his Awanui home and shed.
It was a mate who had gone to feed his cat Bobby who alerted Mr Wright to the break-in.
"I haven't been able to leave hospital to have a really good look at what has been taken yet but a few of the big items have gone," Mr Wright said.
That included a lawn mower, quad bike, a welding unit and a compressor.
Mr Wright is a bit of a "jack of all trades" and his shed was full of tools.
Just three weeks ago someone had tried to break into the shed while he was in hospital.
Friends had nailed up sheets of corrugated iron but that proved no deterrent.
The 70-year-old retired truck driver beat prostate cancer last year but was diagnosed with bowel cancer just before Christmas.
He had an operation in April but had suffered from complications.
"I got the prostate cancer beat, then this, which has been prolonged and full of agony," Mr Wright said.
Police are investigating the burglary and anyone who may know about the stolen items should contact Kaitaia police station on 09 408 6500.
For more articles from this region, go to Northern Advocate