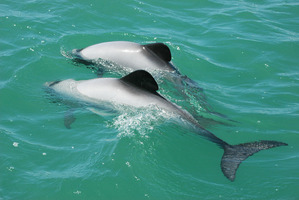 New Zealand is under pressure at an international scientific meeting this week to save the world's rarest dolphin. The small Maui's dolphin, found only in shallow waters off the North Island's west coast, is listed as critically endangered, with just 55 adults remaining.
The issue is due to resurface at a meeting of the International Whaling Commission (IWC) scientific committee, running on South Korea's southern island of Jeju between June 3 to June 16, where delegates were again set to urge Wellington to act.
Experts fear the dolphin will disappear by 2030 unless urgent action is taken. Associate professor of zoology at Otago University Liz Slooten said an expert panel appointed by the Government estimated last year five Maui's were killed annually as fishing industry bycatch. "They are literally teetering [on] the brink of extinction," Dr Slooten said. "They won't last if we don't do something right now."
The Government introduced restrictions on gill nets and trawling in the dolphins' habitat last year but didn't meet an IWC call for an immediate ban to save the species.
Instead, it called for submissions to a threat management plan, saying it would assess both the risks facing the dolphins and "the potential impact of this extended ban on the local fishing community".
Submissions for the plan closed in November but no further action has been taken.
- AFP