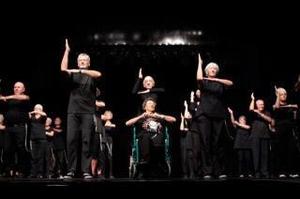 The Hip Op-eration crew in action. Photo / Supplied
New Zealand's Got Talent auditions arrived in Auckland today with hundreds of acts appearing, from performing dogs to fire dancers.
The auditions, held at Epsom Girls Grammar, saw a Japanese Taiko drummers group, Bollywood-style dancers, and a crew of retiree hip hop dancers - named Hip Op-eration.
The Hip Op-eration Crew claim they are the world's oldest hip hop dance group and is made up of 37 senior citizens aged from 66 to 96 years old who all live on Waiheke Island.
The group is planning to honour the global hip hop scene with a special performance at the World Hip Hop Championships in Las Vegas in August.

The dance troupe of octogenarians have been officially invited to do a tribute performance at the global hip hop event due to their passion and respect for hip hop and desire to inspire people to pursue their dreams no matter what their limitations.
They are raising funds through the website Givealittle to get their crew to the World Hip Hop Championships.
Auditions for New Zealand's Got Talent continue today at Epsom Girls Grammar.