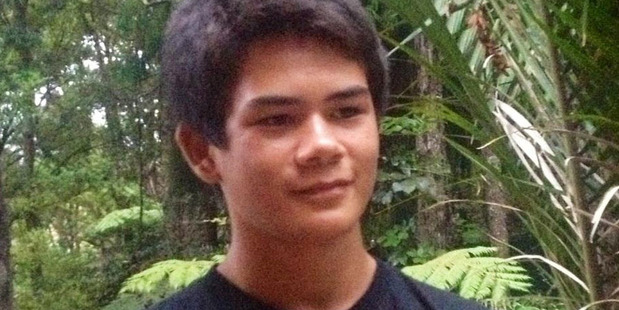 The Kelston Boys High School community is struggling to come to terms with the death of a student described as a "beautiful boy" and a "rugby star'.
Stephen Dudley, 15, was allegedly assaulted by two other teenagers after rugby training yesterday afternoon.
He was rushed to Auckland City Hospital but died a short time later.
More than 10,000 people have joined a tribute page on Facebook, including Stephen's aunt Rachael Andrews who described her nephew as an angel.
"Such a beautiful boy inside and out. Rugby star of our whanau," she wrote.
He has been portrayed as an athletic young man and a close friend to many.
"A tragic waste of a young life. Feeling for his family & friends. RIP," Shiona Holman wrote.
The school this morning held an assembly to brief its students and teachers about what had happened.
Bouquets of flowers were placed outside the school's gates, some with handwritten notes paying respects to the student.
In a letter to parents jointly signed by principal Brian Evans and board of trustees chairman Jonothan Tommy, they advised counsellors would be available for students throughout the school.
"If you feel that your son or other family members are displaying signs of distress and may need assistance please contact us and we will do all we can to help," the letter said.
Two teenage boys, aged 15 and 17, were arrested last night and charged with assault.
The 15-year-old was subject to a blanket suppression order preventing the media from reporting anything but the fact that he had appeared in court.
The 17-year-old was remanded on bail as his parents, aunt and cousins looked on from the public gallery.
The pair will be back before the court on July 2.
Detective Inspector Bruce Scott said police had taken phones from people who witnessed the incident in the hope of gleaning information.
There was a possibility the incident had been filmed, he said.
Mr Scott did not rule laying further charges against the two teenagers arrested and depending on the results of a post-mortem examination "other charges may be preferred".
There was no possibility a murder charge would be laid at this stage, he said.
Former All Black Inga "The Winger" Tuigamala spoke of his shock at the death at his former school.
"The fact that a young life has been taken unexpectedly in such difficult circumstances [is a tragedy]."
Kelston Boys was not a violent school and the incident could have happened anywhere, he said.
"It could be in North Shore, it could be in South Auckland."
Tuigamala said he left the school in 1987 and two of his sons also went there.
The school's Facebook page said the 1st XV rugby team's game against Otahuhu this weekend had been postponed.
- APNZ