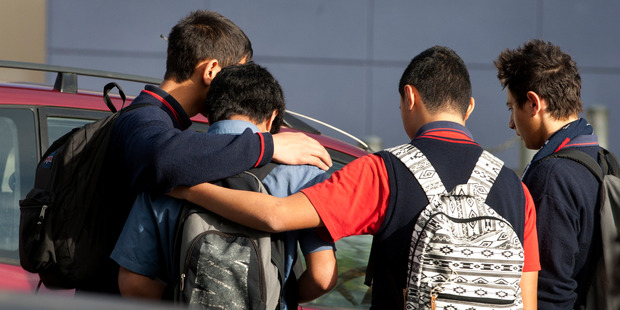 Two teenagers have appeared in court in relation to the death of a 15-year-old boy after a violent incident at a school rugby training session in West Auckland last night.
Police launched a homicide inquiry after Stephen Dudley died about 5pm after training for a Kelston Boys High School junior team.
The 15 and 17-year-old were arrested last night and charged with assault.
They appeared at Waitakere District Court this morning where Judge Brian Callahan suppressed all details that would identify them following submissions from their lawyer John Munro.
The 15-year-old was subject to a blanket suppression order preventing the media from reporting anything but the fact that he had appeared in court.
The 17-year-old was remanded on bail as his parents, aunt and cousins looked on from the public gallery.
More than 15 boys who were at the training session have been interviewed in relation to the incident. The investigation is ongoing and further charges may be laid.
Detective Inspector Bruce Scott said a post-mortem examination on Stephen would be carried out today.
"Although Waitemata Police have interviewed a number of people, we are appealing for those who were present or have any information, but not yet interviewed to contact Waitemata Police," Mr Scott said.
Stephen was a flanker for the school's 2C team, which trained at the Kelston Deaf Education Centre yesterday afternoon.
The coach had left before the fight took place. Stephen was knocked unconscious and taken to Auckland City Hospital, but died a short time later.
No weapons were were involved, Mr Scott told Radio New Zealand.
"It's a terrible thing to have happened and for somebody to be taken so young, it's really awful."
Stephen's family were distraught, Mr Scott said.
Friends have paid tribute to Stephen on social media and a Facebook page set up for the teenager has already attracted more than 8000 members.
"A tragic waste of a young life. Feeling for his family & friends. RIP," Shiona Holman wrote.
Another person, Jackie Harrison, described the death as a tragic loss.
"Thoughts and prayers with this young Warrior's whanau."
The chairman of the Kelston Boys' board, Jonothan Tommy, said the incident was hugely distressing for the school community.
"It is a terrible thing to happen. A terrible thing."
The school organised a 9am assembly in Stephen's honour.
A school sports Facebook page said the 1st XV would wear black armbands for their game this weekend against Otahuhu.
Anyone with information about the incident should contact Waitemata Police or Crimestoppers, anonymously, on 0800 555 111.
* Send your story, photos or video here.
- APNZ