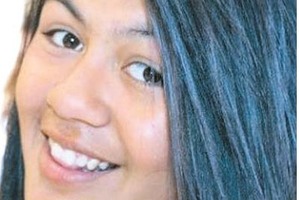 A Rotorua teenager who died in a fire at the weekend has been described as a bubbly girl who had a bright future.
Mihinui Tamiana, 14, was in an industrial building on Riri St on Sunday morning when it caught fire.
A few hours earlier police had shut down a party at the building. Mihinui was sleeping on a mezzanine floor in the building about 2.30am when the fire started.
It was thought a petrol generator may have started the blaze but a friend of Mihinui said it could have been more sinister. Jayda Nathan told 3 News that she was at the building and said she believed a molotov cocktail was thrown inside, starting the fire. She said about 10 people were sleeping in the building when a group of boys had opened the door and threw in a molotov cocktail.
Police were not commenting on the cause of the fire.
Mihinui's aunt Dolly Tamiana said the family were told early on Sunday the 14-year-old had died. The teen lived with her grandmother Georgina McKinnon, at whose home family gathered to mourn.
Mihinui was a Western Heights High School Year 10 student. She spent Year 9 at Rotorua Girls' High School after attending Rotorua Intermediate.
Principal of Rotorua Intermediate, Garry De Thierry, described Mihinui as very bright. He said she was in the school's accelerate programme and spent Year 8 in a girls-only class.
He said she was a lovely student and news of her death had come as a big shock.
"I drove down to the factory today just to have a look at where it happened," he said.
"I was just devastated."
Mr De Thierry said Mihinui's former teacher organised for students who were in her class to get together yesterday and reflect on what had happened.
He said staff would also be meeting this morning to discuss what had happened and gauge the reaction from students.
Rotorua Girls' High School principal Annette Joyce said in the short time Mihinui was at her school she made a big impression.
"She was a very bright, bubbly girl who had a really good future ahead of her," she said.
"My heart goes out to her family and friends at this difficult time."
Mrs Joyce said Mihinui had a good circle of friends who would be needing support at this time.
She said counselling services were always available to students at the school and students would be reminded of this.
Western Heights High School principal Violet Pelham could not be reached for comment.
A funeral service for Mihinui will be held at Tunohopu Marae at 11am on Thursday followed by burial in Pukepoto Urupa.
Meanwhile, police said the investigation into the fire was continuing.
A post-mortem examination was completed yesterday and police said they would be consulting the coroner.
Detective Senior Sergeant Graham Perks said he wouldn't comment on the outcome of the post-mortem or speculation about the cause of the fire.
"We still have a number of inquiries to complete and we still need to speak to teenagers who were at the premises, taking into account their ages, and their physical and emotional welfare."
A 17-year-old boy remains in Waikato Hospital in a critical but stable condition.
All of the other teenagers who received hospital treatment have now been discharged.
Police still want members of the public to come forward with any information about the fire.
Anyone with information should contact Rotorua Police on 07 348 0099. Alternatively information can be provided anonymously via Crimestoppers on 0800 555111.
For more articles from this region, go to Rotorua Daily Post