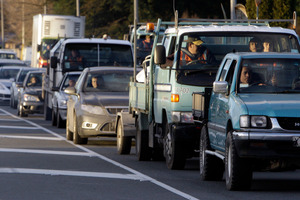 Police were tonight hoping for the first-ever Queen's Birthday weekend without a single road death.
Seven people were killed in four fatal crashes over the same weekend last year - a sharp rise from the single death in 2011, and two deaths the previous year.
But as of tonight there had been no deaths since the official holiday period began at 4pm on Friday, which would make this year's Queen's Birthday weekend the first without a fatality since records began in 1956.
Assistant Commissioner of road policing Dave Cliff said he was hoping to keep it that way.
"If we did, that would be a great achievement," he said.
"The overall picture is really positive. If you go back to the early 1970s, there was a high of 24 killed in a Queen's Birthday weekend.
"We've made tremendous progress, but one death is too many and there's still too many people who are being hurt, and we can still improve the way we drive."
With the official weekend road toll period due to end at 6am tomorrow, Mr Cliff said it was too soon to rest on any laurels.
While the lack of deaths was positive, there had still been a number of serious crashes.
"We tend to get 100 people injured in road crashes over the Queen's Birthday weekend, so while the no deaths result is really very positive, it's only part of the story," Mr Cliff said.
Police around the country reported traffic had been running smoothly today, aside from in South Island areas hit by flooding and snow.
However, there had been a number of crashes.
A 9-year-old boy suffered minor head injuries when he was hit by a car near Wintere Rd in Papatoetoe about 1.30pm today.
Inspector Peter Raynes of police northern communications said it was not known if the boy was hit in a driveway or on the road.
"Apparently he's got an ear injury - it's a very minor injury at this stage."
A 61-year-old man was taken to hospital after a vehicle rolled on State Highway 2 at Waingawa, north of Carterton.
QUEEN'S BIRTHDAY ROAD TOLL
Highest: 24 deaths in 1973
Lowest: 1 death in 2011
Last year: 7 deaths in 4 crashes
This year: No deaths (as at 11pm)
- APNZ