Criminal inquiry looking at Kiwi unit's deaths in Afghan firefight.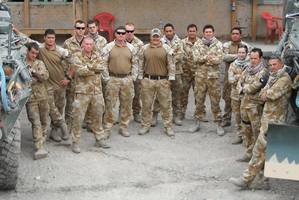 A criminal inquiry has started into a firefight in which two New Zealand soldiers were killed in Afghanistan last year.
Military police are investigating soldiers on the Crib 20 deployment, which lost five personnel in two weeks last August.
Among the allegations are that soldiers involved in the August 4 "Battle of Bahgak" - in which Lance Corporals Rory Malone and Pralli Durrer were killed - failed to follow the rules of engagement.
Also being investigated is whether soldiers mistakenly opened fire on Afghan National Directorate of Security forces they were supposed to be rescuing, leading to casualties on both sides.
A separate court of inquiry is also investigating the incident.
In a statement this week, Chief of Defence Force Lieutenant General Rhys Jones said: "While we cannot pre-empt the findings of these investigations, given the high public interest in this case, NZDF categorically denies reports that personnel shot unarmed Afghan prisoners during the 4 August 2012 contact."
He said the interim findings "suggest it is very unlikely that NZDF personnel injured or killed Afghan National Directorate of Security personnel or that NDS personnel injured or killed our people".
In April, the Defence Force released the interim findings of the court of inquiry into the Bahgak incident after suggestions that soldiers had been hit by friendly fire.
But a source close to the investigation said there was concern over the interim findings.
One source said a culture of complacency had crept in to the Crib 20 team before Bahgak. They had been in Afghanistan for four months before the incident.
The source said patrols were taking short cuts that ultimately endangered New Zealand soldiers and the Afghan security forces.
A soldier who was killed two weeks later, Corporal Luke Tamatea, was in the thick of the battle on August 4, leading a team into the hills to try to find retreating insurgents.
Tamatea was killed on August 19 when a roadside explosive device killed him and Lance Corporal Jacinda Baker and Private Richard Harris.
Responding to the Herald on Sunday's investigation yesterday, Labour Party defence spokesman Phil Goff said: "Because we have such a good reputation internationally, it's important the court of inquiry addresses all these issues.
"Given there are a number of rumours floating around it, is important that the court of inquiry be made fully public so people know the full facts of what has happened."
Defence Force statements last year said New Zealand troops went to the aid of Afghan NDS personnel who were being attacked by insurgents.
The New Zealand patrol also came under attack from retreating insurgents. Two Afghan police were killed in the ambush, and 11 injured.
Lance Corporal Malone was shot and killed by rifle fire while trying to help drag wounded company commander Major Craig Wilson to safety.
Wilson is a former member of the SAS, who won the New Zealand Gallantry Decoration in the same battle for which Willie Apiata was awarded the Victoria Cross.
Lance Corporal Durrer was also shot, and died while being evacuated from the region. Durrer's grandfather Jack Durrer said he had many unanswered questions, and he was anxious to read the final report.
Lieutenant General Jones said: "The release of any information relating to the investigations prior to their completion could prejudice the maintenance of the law."