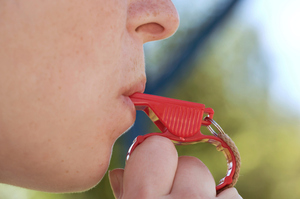 A junior rugby coach has been banned from his club after allegedly headbutting a stand-in referee at an early morning under-7s match last weekend.
The angry victim, who speaks out in an exclusive interview in tomorrow's Herald on Sunday, says he has laid a complaint with police.
The club describes the attack, which left the victim with two black eyes and a broken nose, as "disgusting".
Today, the nation's leading winter sports codes - rugby, netball, football, league, basketball and hockey - are coming together to launch a major new initiative to support better behaviour on the sidelines.
The Herald on Sunday Sideline Champs Awards 2013, in association with McCafe, will recognise family and friends who are setting a sporting example cheering on grassroots sport.
It could be a dad who broke up a fight or defused a tense situation; perhaps a mum who has gone out of her way to recognise the performance of all the kids on the field; perhaps an aunty who has set up a positive cheering squad.
The most exemplary supporters will be recognised with a certificate, their names published online by the newspaper in a roll of honour, and they will win one of 15,000 vouchers for a coffee and muffin at their nearest McCafe.
Ambassadors including injured All Black Richard Kahui, Silver Fern captain Casey Kopua, league's Manu Vatuvei and World Cup football star Ivan Vicelich are all joining the call for sideline supporters to set an example to kids.
The latest Sideline Champs ambassador to sign up is Breakers basketball captain Mika Vukona - and he says children can sometimes set an example for their parents. "If kids are practising at school and told what's wrong, they can then influence their parents. They are the only ones who can do that."
This weekend, supporters can write their own match report on the Saturday morning sports games they attend, with the new Rate my Game website - live from the sideline on their smartphones, or when they get home to the computer. The site is: nzherald.co.nz/SidelineChamps
* If you see remarkable behaviour on the sidelines today - good or bad - please get in touch by phoning 09-3739340 or emailing news@heraldonsunday.co.nz