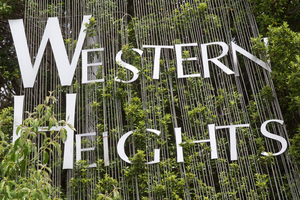 A Rotorua schoolgirl fight, videoed and posted online, has disgusted and shocked members of the community.
The video, filmed outside Western Heights High School on Friday - the same day an anti-bullying campaign was launched at the school - was shared on Facebook.
The 35-second video was removed by the social networking site following a request from police who have since referred a 13-year-old girl to Rotorua Youth Aid.
One woman said she was disgusted by what she saw.
"It was brutal," she said.
"It was posted on another page and everyone who commented was so disgusted by it, and she just doesn't care.
"This kind of behaviour needs to be stopped."
The fight was said to have been pre-arranged between the 13-year-old and a 16-year-old girl. The 13-year-old lays into her victim, punching and kicking as a crowd gathers.
She uploaded the video to her Facebook profile with the comment "hahaha".
Rotorua police Inspector Ed Van Den Broek said it was "a disgusting incident".
"It's not very pretty that sort of behaviour, just that day they had the launch of the bully campaign - how embarrassing is that? It's a little bit disappointing."
He said they had spoken to the victim who had told them it was a pre-arranged fight.
"It's resulted in quite a lengthy series of ongoing attacks on the girl, which was quite horrendous looking at the footage ... I've spoken to several of our long serving frontline officers and they were just disgusted by it.
"It's got no place in our society."
The girl's injuries were not serious.
Mr Van Den Broek said concerned members of the public posted the video to the Rotorua Police Facebook page and as a result police were able to report it to Facebook and it was removed. He said police were pleased at the public's reaction.
"It's great to see that people are concerned and share that information with us. If it was my daughter I would want others to stand up."
He said there were laws in place allowing members of the public to use force to prevent an ongoing assault on others, but he advised caution.
"My advice would be if you're confident you can step in and prevent this from carrying on then certainly break up the fight but you don't want to put yourself at risk."
The video was also posted to the Rotorua Daily Post Facebook page. The Post has chosen not to publish images from the video.
The father of a teenage girl told the Rotorua Daily Post he was disgusted at the behaviour of those in the video.
The man, who wanted to remain anonymous, said his daughter had heard about a fight happening after school.
"She told me it was going to happen and I thought the teachers would put a stop to it."
Western Heights High School principal Violet Pelham said in a statement a final decision on the student's enrolment at the school was in the hands of the Board of Trustees.
"I haven't seen the video," she wrote.
"We stand by our anti-bullying position. As you are aware social media such as Facebook has been used as a vehicle for bullies. That incident is not a reflection of Western Heights High School. It is a reflection of a small section of the community at large."
The girl had posted on her Facebook page on Monday that she had been expelled.
"Hmmm what am I going to do with my life now," she wrote.
For more articles from this region, go to Rotorua Daily Post