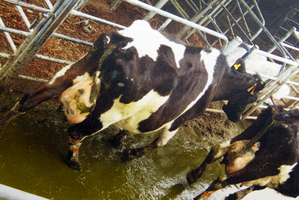 A company that ran a large Taupo dairy farm has been fined $40,000 in a major animal cruelty case.
Earlier this month farm management company MilkPride Ltd pleaded guilty to underfeeding almost 400 cows.
During the Rotorua District Court trial earlier this month, the Crown dropped more than 600 charges against the company and its officers, after the company pleaded guilty to one representative charge of failing to provide proper and sufficient food to 392 cows.
The Crown had originally brought 625 charges relating to 1106 cows against the company, directors Ross Cottier and Murray Flett, general manager Craig Coote and regional manager Raymond Griffin. All charges against the four men were dropped.
The charges stemmed from a Ministry of Agriculture and Forestry inspection of the Taharua Farm on Taharua Rd near Taupo, which found evidence of cows being underfed and ill.
In 2008 MilkPride had brought about 5000 bulls and cows plus the plant from a Crafar Group company that owned the farm and they entered into a sharemilking agreement. The ministry's inspection started on October 6, 2009, the day after the Crafar companies went into receivership.
MilkPride Ltd was this morning ordered to pay $40,000.
For more articles from this region, go to Rotorua Daily Post