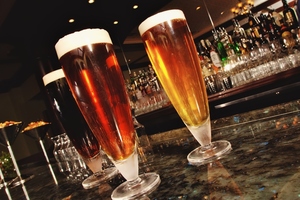 Police are astounded that two girls were served alcohol during a controlled purchase operation despite telling bar staff they were 16.
The teens were served drinks at Hotel Motueka last week, said Nelson Bays Alcohol Harm Reduction Officer Steve Savage.
The girls visited the bar on May 23 and were asked for ID.
They said they didn't have any, and were then asked their age, Mr Savage said.
"They gave their correct date of birth and the bar staff said, 'so you're 16'.
"The girls confirmed they were 16 and were then served drinks and told to have a nice day," he said.
"In my view this is a more serious offence than serving someone you believe is 18. The bar staff clearly knew they were serving 16-year-olds. I can't imagine what they were thinking," he said.
No other sales were made to minors in the operation, which visited 34 licensed premises in Nelson, Richmond and Motueka.
Mr Savage said the overall result was very pleasing. "Clearly the vast majority of licensees are taking their responsibility pretty seriously."
Police would be meeting Hotel Motueka management to discuss the breach.
- APNZ