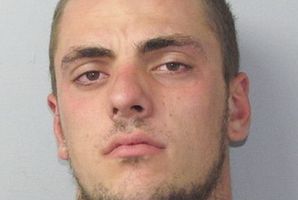 A runaway prisoner who escaped from a Corrections van while it was parked outside a service station has been labelled a "drunk antisocial thug'' by one of his victims.
David Lothien was sentenced today to six months' imprisonment for breaking out of the rear of a Corrections van while it was parked outside a Danniverke service station on April 17. He was being transferred to Hawke's Bay Prison at the time.
But it emerged in court he had previously been charged with escaping police custody for trying to swim his way out of an arrest in 2011 after jumping from the Ahuriri wharf in Napier and swimming across an estuary to avoid police. He was plucked from the water suffering hypothermia.
Lothien was also sentenced today to two years and five months' imprisonment on a charge of wounding with reckless disregard which left his victim without sight in his left eye.
He will serve the two sentences concurrently.
In an impact statement read out to the court the victim, Peter O'Sullivan, said his world had been turned upside down by the assault which had left him with ongoing medical and financial issues.
He said on the night of January 26, when both he and Lothien were attending a speedway event in Rotorua, Lothien had punched him in an unprovoked attack.
Mr O'Sullivan labelled Lothien a "drunk, antisocial thug''.
In the statement he said he had received surgery following the attack but had not regained sight in his left eye. Doctors had told him it was unlikely he ever would.
Lothien's lawyer, Amit Malik, said the case had taken an unusual turn with the escape and subsequent media attention which had perhaps distracted from the main purpose of the sentencing.
Mr Malik said a letter Lothien wrote to the Hawke's Bay Today which detailed his escape from the van and placed blame on Corrections staff showed his impulsive and often immature behaviour.
Judge Bridget Mackintosh took into account Lothien's six previous convictions for common assault, which dated back to 2009, his charge of previously escaping police custody and the fact he was on bail when the assault occurred.
She said the punch had caused serious damage to the victim because he was wearing glasses at the time which subsequently shattered.
Judge Mackintosh also said the effect on the victim was a key aggravating factor in her sentencing.
Lothien was given a three strikes warning for the violence offence.
For more articles from this region, go to Hawkes Bay Today